Emotional Abuse in Nursing Homes
Emotional abuse in nursing homes can be subtle and pervasive, slowly causing an elderly resident to become fearful, compliant, and sick. It's important to speak with an experienced nursing home abuse attorney if you suspect that a family member is the victim of emotional abuse. We can help you put a stop to abusive conduct and file a lawsuit to recover damages for your loved one's distress.
Research suggests that one out of every six older adults experiences elder abuse in a community setting, including nursing homes and assisted care facilities. This abuse isn't just physical. In fact, emotional abuse in nursing homes is far more common, accounting for about one-third of all instances of abuse.
What is emotional abuse in nursing homes?
Emotional abuse refers to a pattern of manipulative or controlling behavior that causes a nursing home resident to suffer psychological trauma or damage.  
The important takeaway here is that, while emotional abuse is typically a pattern of conduct, one bad interaction or an isolated incident can qualify as abuse, as in the case of a nursing home resident who was filmed by two staff members who taunted her and posted the incident to Snapchat. 
A caretaker, staff member, health care provider, or another party who intentionally engages in actions meant to make a resident fearful, compliant, or unwell are guilty of emotional abuse.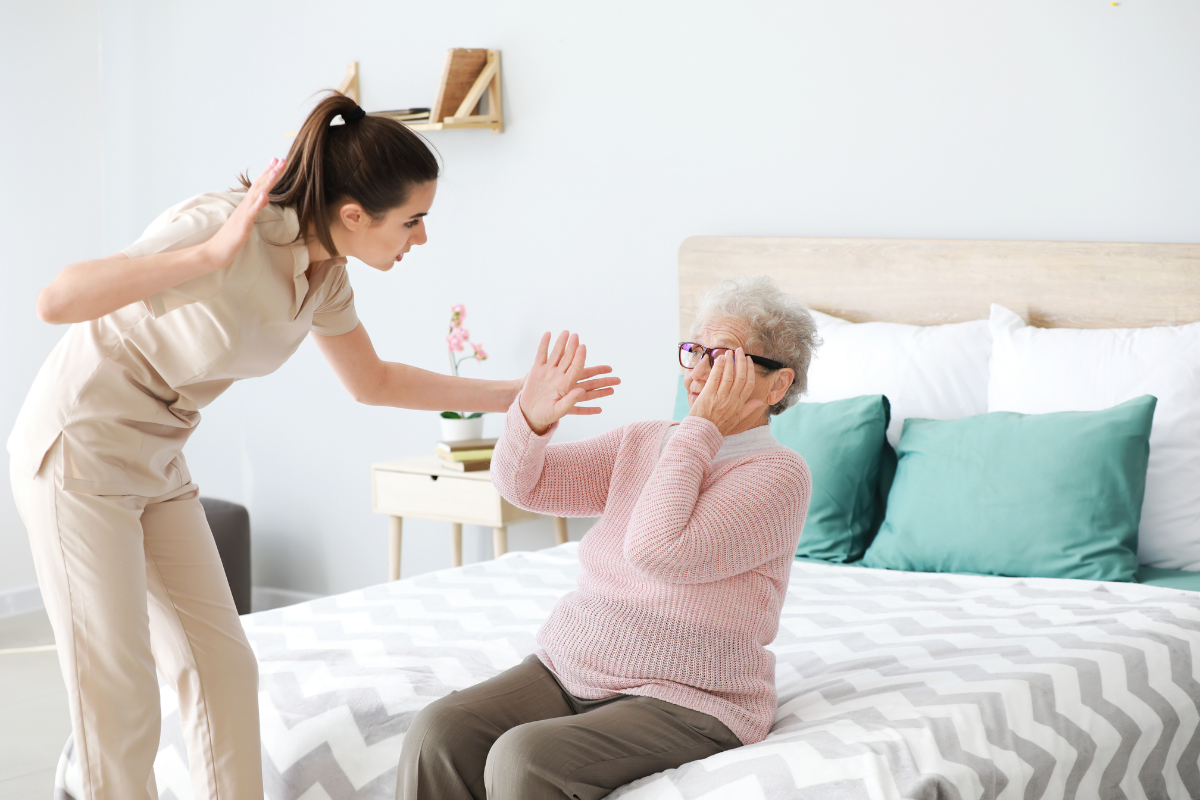 Types of Emotional Abuse in Nursing Homes
Threatening physical violence

 

Threatening a resident's physical safety

Threatening social isolation

 

Demeaning or shaming

 

Ridiculing

 

Gaslighting

 

Yelling

Blaming a nursing home resident for problems or issues

 

Limiting access to basic necessities, like food, water, and medication

 

Ignoring a resident's needs or requests

 

Isolating a resident from others 

 

Refusing to allow a resident to call family members or see visitors

Criticizing

 

Humiliating a resident

 

Refusing to provide care based on a resident's personal preferences or choices

 

Making a resident feel worthless or unloved

 

Refusing to speak to a resident

 
Emotional abuse isn't always open and obvious. In many cases, a nursing home resident may not even know they are the victim of harmful emotional and psychological abuse.
What are the signs of emotional abuse in nursing facilities?
So how can we know if a family member is being abused emotionally or psychologically by their nursing home caretakers? After all, we're not there with them all the time, and their abusers certainly won't document or highlight their manipulative or controlling behaviors. 
Ultimately, it's important to visit your loved one regularly and speak with them on a regular basis. You know them best and can identify subtle — but real — signs that they're being emotionally abused. 
Some common warning signs of emotional abuse in nursing home settings include: 
Changes in mood and overall demeanor

 

Depression and anxiety

Refusing visits or phone calls

 

Reports of self-doubt

 

Fear

 

Nervousness

 

Changes in behavior when the abusive caretaker is near

Withdrawal and self-isolation

 

Confusion

 

Avoiding eye contact

 

Unexplained changes in appearance, weight, or health

 
If a loved one is being emotionally abused, there's a possibility that they're being abused in other ways as well. It is important to also look for signs of physical abuse, financial abuse, and neglect.  
If you believe that your loved one is being emotionally abused in a nursing home, talk to them and reach out to the facility. If the facility downplays your concerns or is adamant that your loved one is not being abused, take steps to report the abusive conduct. 
You can report elder emotional abuse to the Illinois Department of Human Services online or by calling (800) 252-4343. You can also visit eldercare.gov or call the Eldercare Locator at (800) 677-1116 for more assistance.  
Once you've reported the emotional abuse, consider speaking with an experienced nursing home abuse attorney about your rights. 
Filing a Nursing Home Emotional Abuse Lawsuit
Elder emotional abuse is inexcusable. If a family member is being traumatized, humiliated, isolated, or psychologically abused in other ways, you have the right to take legal action. 
In a nursing home abuse lawsuit, you can fight to hold the emotionally abusive caretaker and the nursing facility fully accountable for the injuries and suffering they've caused. By filing a lawsuit, you'll allege that the nursing home — through its caretakers — intentionally and/or negligently abused a resident in its care. 
A successful lawsuit can allow you to recover compensation for your loved one's: 
Medical expenses

 

Therapy

Psychological trauma

 

Depression and anxiety

 

Embarrassment

 

Reduced quality of life

 

The cost of transferring to a different nursing home

Other related damages

 
If the emotional abuse was intentional and persistent — or if the nursing home turned a blind eye to the abuse — a jury may decide that an award of punitive damages is also appropriate. 
Don't expect a nursing home or abusive caretaker to admit wrongdoing or accept fault. To win your nursing home emotional abuse lawsuit, you'll have to partner with a personal injury attorney near you with experience handling challenging cases like these. 
At Levin & Perconti, we advocate for victims of physical, financial, and emotional abuse in nursing homes across the country. For more than three decades, we've worked hard to hold powerful nursing homes accountable for their unthinkable actions and secure top results for the deserving clients we represent. We've recovered hundreds of millions of dollars in the process. 
Benefit from an award-winning legal team with 200+ years of collective experience. Let us help you advocate for your family member and fight to get the results you deserve. There's no upfront cost to hire our law firm. We work on contingency, so our top-rated trial attorneys get paid only if we win your nursing home emotional abuse case. 
Contact our law office in Chicago, Illinois, to arrange a free consultation to learn more.